Choosing Right Diet for Hypothyroidism
Finding the "Right" diet for hypothyroidism can be easier said than done. There are tons of diets that all claim to improve your thyroid health, however, they lack the science to back up their claims. And this can be dangerous, especially when many of these diets recommend foods that have been shown to negatively affect your thyroid.
Here are some general but useful tips that you need to consider when choosing the right diet for hypothyroidism. All of these tips are based on research that accounts for the nutrients required for your body to not only produce thyroid hormone but to also to convert it and deliver it successfully to your cells where it is used.
An Anti-Inflammatory Diet for Hypothyroidism
The best diet for hypothyroidism should be very anti-inflammatory by nature. And this is because inflammation from your diet or any other source, causes stress to your body and activates your body's natural stress response.
The stress hormones involved with this stress response work against your thyroid to slow you metabolism as means of telling your body to conserve energy so that it can either overcome or outlast the source of the stress.
But when the stress becomes a continuous problem such as eating an inflammatory diet that places your body under daily stress then those stress hormones continuously slow your thyroid which causes many problems.
Do Grains Have a Place in a Diet for Hypothyroidism?
There are many sources of inflammation within your diet but one of the biggest and most common is from gluten containing grains such as wheat. And yes, all grains contain some form of gluten and in some amount. Wheat is just the one that gets the most attention.
Not only that but starchy grains contain sugar chains made up entirely of glucose. And glucose alone will have a much great impact on your blood sugar than many other forms of sugar. So it's quite common for people who eat a heavy grain based diet to have blood sugar imbalances and oftentimes develop insulin sensitivity, or diabetes.
Anti-Inflammatory Proteins
Yes, protein is good for you and it needs to be a big part of any diet for hypothyroidism. But also keep in mind that not all protein is created equal.
More than a decade ago, our diet used to be quite different. We would make use of the entire animal that we ate instead of merely using a few different cuts of meat. And that included using the bones and organs as well.
This is why it is always recommended to incorporating bone broths and gelatins into your diet for hypothyroidism in order to get plenty of the anti-inflammatory amino acids such as glycine.
Aside from that, the anti-inflammatory proteins have a host of other benefits. They help regulate fat metabolism. They improve your clotting factors. They have even been used for more than 100 years to treat diseases such as diabetes and arthritis.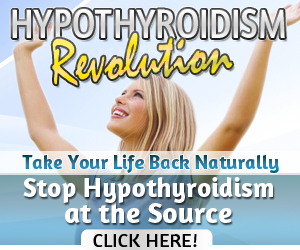 Saturated Fats
Another very important component to any diet for hypothyroidism is saturated fats. The benefits of having saturated fats in your diet are enormous. But you have to break through the invalidated misinformation out there that has led so many people to wrongfully believe that saturated fats are bad.
For starters, saturated fats are easily metabolized. They inhibit the release of histamine which is responsible for much the inflammation within your body. They also counteract the effects of the inflammatory proteins I mentioned above.
But possibly most important to your thyroid, they promote availability of thyroid hormone receptors, allowing your cells to use T3 more efficiently.
Coconut oil is one of the best saturated fats that you can eat. It's made up almost entirely of medium chain fatty acids such as Lauric acid, which are directly converted into usable energy, instead of being stored away as fat like some would like you to believe.
Butter is another great choice of fat in your diet. Butter contains plenty of nutrients such as vitamin A and vitamin D which are necessary for healthy hormone production.
---
We have published an excelent ebook on Thyroid Disorders 'Ayurvedic Management of Thyroid disorders'
This ebook deals with the subject in all completeness and clarity covering all aspects of 'Thyroid Disorders'. Read More>>>>
Related Article : Management of hyperthyroidism in Ayurveda